Year in photos: 10 things we celebrated in 2018
It was a year of good and bad, but there were big memorable things happening throughout 2018. This photo gallery looks back at those occasions. Cheers to a good 2019!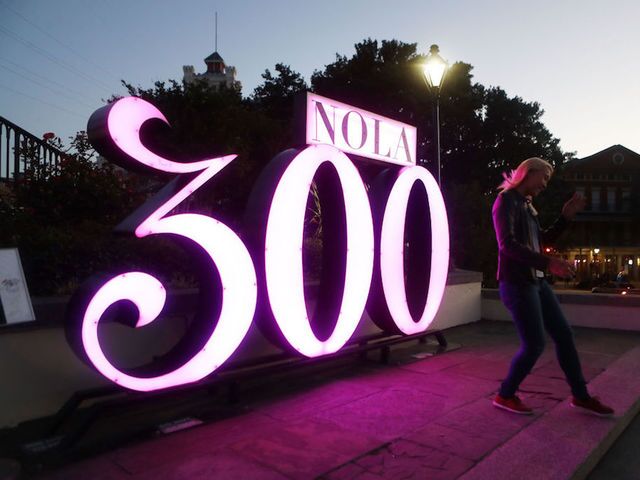 NEW ORLEANS HAS A BIG BIRTHDAY: A woman walks after taking a photo at the NOLA 300 sign next to Jackson Square on April 16, 2018 in New Orleans, Louisiana. Jackson Square is the oldest space of the city and was originally known as the Place de Armes (parade grounds). New Orleans, originally founded by the French in 1718, is celebrating its 300th anniversary this year. The city became part of the United States in 1803 as part of the Louisiana Purchase.
Photo by: Mario Tama
Perci Moeketsi (C), playing the role of Nelson Mandela along with Maxine Champion, Sophia Laryea and Tiana Canterbury pose during a preview of Madiba The Musical on October 3, 2018 in Melbourne, Australia. Madiba the Musical celebrates the life of the former South African leader, is interwoven with stories of the fight against apartheid and forbidden love in a troubled land. Mandela's 100th birthday was July 18, 2018. (Mandela died in 2013.)
Photo by: Scott Barbour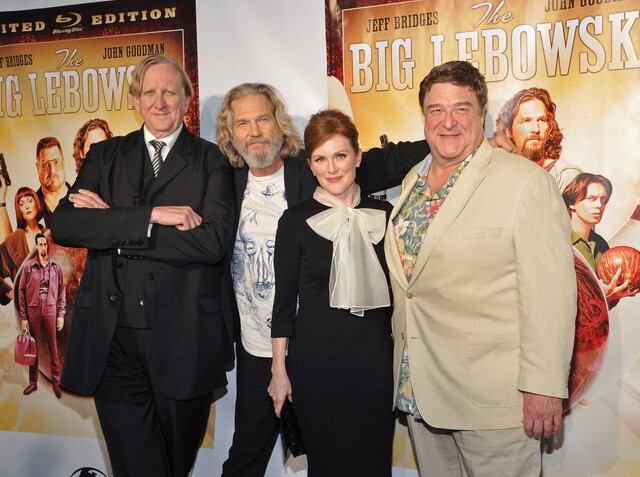 TWENTY YEARS OF 'THE DUDE': Popular, quirky comedy film "The Big Lebowski" turned 20 in 2018. Pictured here are (L-R) Musician T-Bone Burnett, actors Jeff Bridges, Julianne Moore, and John Goodman attend "The Big Lebowski" Blu-ray release at the Hammerstein Ballroom on August 16, 2011 in New York City. Amazon.com is selling a 20th-anniversary limited edition set including the movie, a collectible bowling bag, ball pencil holder, polishing cloth and sweater packaging for around $40.
Photo by: Mike Coppola
'GREASE' TURNS 40: Didi Conn, Barry Pearl, Olivia Newton-John and John Travolta attend the 'Grease' 40th-anniversary screening at Samuel Goldwyn Theater on Aug. 15, 2018 in Beverly Hills, California. The film's stars are mostly in their late 60s. The movie was based on a musical of the same name and had a hugely popular soundtrack.
Photo by: Alberto E. Rodriguez
BOSTON RED SOX WIN WORLD SERIES: In this photo, cutouts of the players' heads sit on a wall inside of Fenway Park before the Boston Red Sox 2018 World Series parade on October 31, 2018 in Boston, Massachusetts. The Red Sox defeated the Dodgers.
Photo by: Adam Glanzman
SUPER BOWL VICTORY: Vinny Curry #75 of the Philadelphia Eagles celebrates after defeating the New England Patriots 41-33 in Super Bowl LII at U.S. Bank Stadium on February 4, 2018 in Minneapolis, Minnesota.
Photo by: Patrick Smith
OLYMPIC POWERHOUSE: Shaun White of the United States is awarded the Best Male Athlete of the PyeongChang 2018 Olympics during the ANOC Awards in Tokyo, Japan in November. The award was bestowed by the Association of National Olympic Committees. The 2018 Olympics were in February. White is a three-time halfpipe snowboarding gold medalist.
Photo by: Mark Runnacles
CELEBRATING THE ARTS: The recipients of the 41st Annual Kennedy Center Honors pose for a group photo following a dinner hosted by United States Deputy Secretary of State John J. Sullivan in their honor at the US Department of State on December 1, 2018 in Washington, D.C. From left to right back row: Deputy Secretary of State Sullivan, Grace Rodriguez, Thomas Kail, Lin-Manuel Miranda, Andy Blankenbuehler, Alex Lacamoire. Front row, left to right: David M. Rubenstein, Wayne Shorter, Philip Glass, Reba McEntire, Cher, and Deborah F. Rutter.
Photo by: Ron Sachs
ROYAL LOVE: There were TWO royal weddings in the United Kingdom this year: Prince Harry, Duke of Sussex and Meghan Markle, Duchess of Sussex were married May 19, 2018 at St George's Chapel at Windsor Castle in England. A few months later on Oct. 12, Princess Eugenie and Jack Brooksbank were married.
Photo by: WPA Pool
MICKEY MOUSE TURNED 90: Disneyland guests and Cast Members celebrate Mickey Mouses 90th birthday, November 18, 2018, during a festive cavalcade down Main Street U.S.A at Disneyland park in Anaheim, California. Beginning in January 2019, Disneyland guests will be able to join the party with Get Your Ears On a Mickey and Minnie Celebration featuring new entertainment, limited-time merchandise and food and beverage offerings. (Photo by Joshua Sudock/Disneyland Resort via Getty Images)
Photo by: Handout