Activists protest gun violence in Boise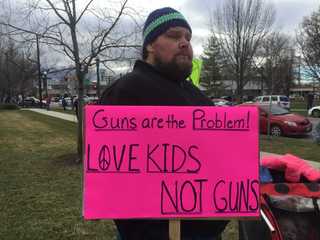 Activists took to the Capitol steps Saturday to protest gun violence. Hundreds carried signs and rallied for elected leaders to take action on strengthening gun legislation.
Boise is just one of the hundreds of cities nationwide staging protests in the wake of the February 14 mass shooting at Marjory Stoneman Douglas High School in Parkland, Florida, in which 19-year-old Nikolas Cruz opened fire with a legally purchased AR-15 semi-automatic rifle, killing 17 students and staff. Earlier this month students across the nation also staged a National Walkout Day. The March 24 event follows a similar demonstration on the steps of the Statehouse March 14, when nearly 1,000 students from schools around the Treasure Valley staged a walkout and marched to the Capitol. Saturday's event "March For Our Lives Boise" was organized by students.