This is part three of a three-part series on the mystery surrounding the disappearance of Diane Schulte. For PART 1 CLICK HERE, for PART 2 CLICK HERE
It's a mystery that has puzzled the Nampa Police Department for forty years.
On March 25, 1977, Diane Schulte, 22 -– described by detectives as "shy, introverted, and a recluse" -– disappears from her Nampa home. Reports say she supposedly went for a walk. But strangely, she left behind a number of personal items, including her wedding ring.
After an exhaustive investigation, detectives come up empty. Diane's husband, Fred Schulte, agrees to submit to a police polygraph exam. But only days before the interview is scheduled to happen, Fred drives to Washington County and takes his own life in a bizarre suicide -– putting to a gun to his head and pulling the trigger while speeding down a rural highway.
His car and body are found at the bottom of an embankment.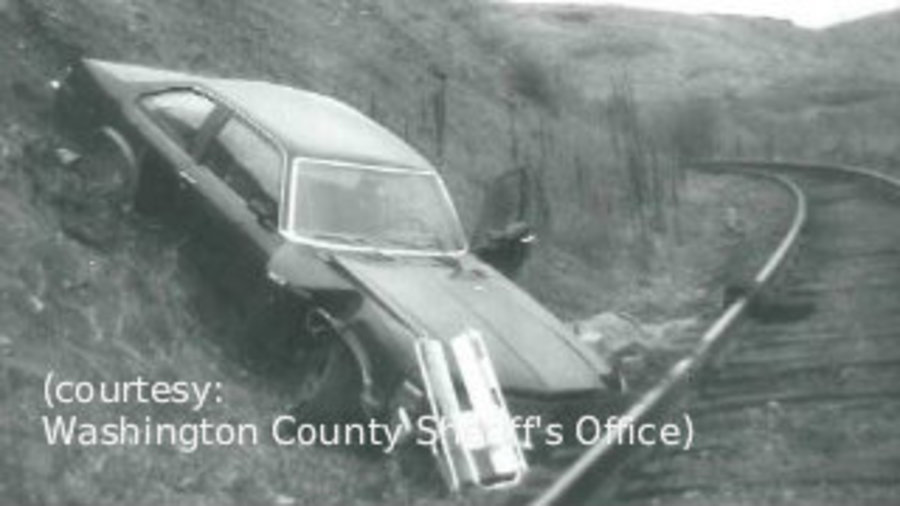 In the Schultes' home, detectives later discover two handwritten suicide notes in which Fred says, "I have given up hope of Diane returning alive."
In one note, he instructs the reader how to dispose of the couple's personal belongings and pets. "I name my father, Fred C. Schulte, the executor of my estate," he writes.
In the second, Fred at first thanks "everyone who has tried to help me find (Diane)," including families, friends, co-workers, neighbors and the Nampa Police Department. He goes on to write, "My wife and I shared a strong love that was very special to me. She gave my life meaning and purpose. She was warm and loving and supportive and fun. She was everything I ever wanted and needed in a woman. In turn, I gave her the strength she needed to cope with a world that terrified her." He later adds, "Having lived with her, I find that I cannot live without her, so by the time you read this, I will have taken my own life."
Then, the letter turns into what can perhaps best be described as rambling manifesto.
On February 14, 1977 -- a little over a month before Diane Schulte disappeared -- ten-year-old Steven White of Nampa was also reported missing. The following day, he was found murdered behind a local LDS church.
Fred references the homicide when he writes, "I challenge any sane, thinking person to spend one full day really observing this insane, absolutely absurd world we're living in. Can you honestly say that you're proud of it? That it makes any sense at all? That there is any justice in it? Diane Schultes and Steven Whites are being cut down left and right while the criminal elements (from the nickel-and-dime shoplifter to the politicians and businessmen that run the world) are free to ply their trades with virtually no fear of punishment."
Then, his strange tirade digresses even further from his wife's disappearance. "Why does so much of the GNP (gross national product) of the world go into producing ships and war planes that are blown to bits when the same GNP could produce food, clothing, and other niceties of life? That is to say, productive rather than destructive items? Why is there so much war, crime, pollution, injustice, inflation, vandalism, etc.? I say it is because our society is disintegrating and doing so more rapidly each year."
But at no time in either note did Fred indicate he knew what happened to his wife.
In reading the notes, veteran Nampa Police detective Angela Weekes says, "I wasn't quite sure where his mental health was at that point."
We had the two suicide notes analyzed by Dr. Elizabeth Horn, a former grief counselor and now an associate professor of counseling at the Idaho State University in Meridian. In reading the longer note, she says, "I really didn't get a sense that he would have killed her. Of course, anything's possible. But I feel it was (written by) a deeply depressed individual with a lot of anger."
And as for Fred's rantings about world problems, "I get the sense (he felt) the world had taken her from him and there were lots of things happening outside of himself that he was pointing his finger at as to why his life was so terrible -- which is another characteristic of suicidality," Horn says. "I also get the sense that, her being taken from him, at least from his point of view, was the final straw. And that, without her, he couldn't live in this world anymore."
In their investigation, detectives learn the couple had a braided oval rug in their living room, a rug that is discovered missing. Plus, officers also find a hole in the living room drapes -– about four inches in diameter -- that appeared to be cut with a pair of scissors.
Concerned their missing person case could now become a homicide investigation, Nampa detectives and an assistant Canyon County prosecutor carefully spade the ground around the Schulte house. But they do not find a body -– nor any indication of a body -- buried anywhere on the premises.
To this day, "the whereabouts of Diane Schulte is unknown and there are no concrete facts or evidence to show that her husband did away with her," police say.
At the time of her disappearance, Diane Schulte was 5-feet 5-inches tall and weighed 125-130 pounds. She had hazel eyes and brown shoulder-length hair.
Diane Schulte

5' 5" Tall

Weight 125-130 lbs.

Hazel eyes

Brown shoulder-length hair
Her upper front gums and teeth were discolored charcoal grey. She had had some dental work done, and more was planned.
Today, Nampa Police still classify this as a missing person case, since there is no direct evidence of a homicide.
Over the years, tips and information on similar cases have come into the Nampa Police Department from as far away as New York and New Hampshire. "But we've never been able to link Diane to any of those cases," Weekes says.
And that leaves a lot of theories -– and even more lingering questions.
If Diane supposedly went for a walk the day she disappeared, why did she leave behind her wedding ring, purse, and other personal belongings?
Was the Schultes' marriage secretly in trouble? What really went on behind the closed doors of their nondescript Nampa home?
Why did Fred Schulte take his own life when he knew police were scheduled to question him -– yet again –- about his wife's disappearance?
Did he simply feel he could no longer live with the grief of suddenly losing who he described as "the most beautiful person I have ever known?"
Or was he responsible for his wife's possible demise?
Or was someone else responsible? If so, who?
Why did Fred's suicide note reference his wife's disappearance alongside the high-profile homicide of a Nampa boy?
What about that mysterious missing rug? Or the drapes with a strange hole cut out?
And of course, the obvious question: What happened to Diane Schulte? Did she simply leave her husband? Is she alive and well and perhaps living incognito somewhere? If alive, she would now be in her early sixties.
"This is a case that is going to be very difficult to solve without the recovery of a body -– which also makes the case very (emotionally) difficult, because it gives the family no closure," Weekes says. "As a parent, I can't imagine having my child missing for this many years and not knowing what happened to them."
If you have any information about Diane Schulte, know of her whereabouts, or know anything about this case at all,you're urged to contact Crime Stoppers by leaving a web tip at 343COPS.com, using the free P3 app, or by calling 208-343-COPS (2677). You can remain anonymous and you could earn a reward of up to $1,000 if your tip leads to a felony arrest.