Inversion sticks around to start the week, rain & snow possible by this weekend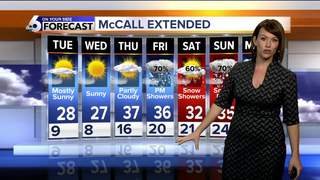 BOISE, ID -
Settle in for several more days of gray, dreary, cold conditions across the valleys of southwest Idaho, as the inversion will linger for most of the work week.
Temperatures will stay well below average through mid-week, with only a 5°-7° temperature change from morning to evening. Overcast skies will continue to envelop the valleys, so if you need a dose of vitamin D, you'll have to head to the mountains! Areas above about 5,000' will enjoy mostly sunny skies for the next several days.
Come Friday, it looks like we could finally see the inversion scoured out by a storm system coming in from the Northwest. That means mountain snow is possible this weekend, with rain showers in the valleys by Sunday.