SYSCO KITCHEN: Sa-Wad-Dee's Chicken Volcano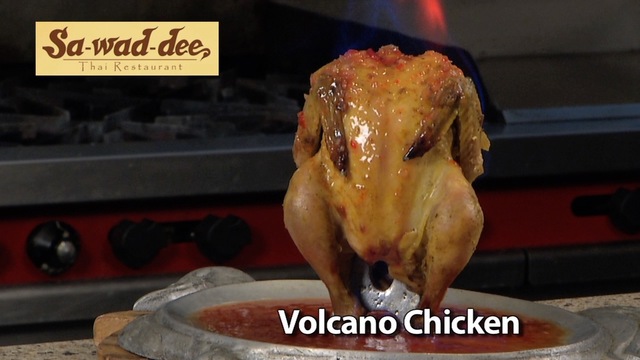 Opened in 2004, Sa-wad-Dee is Meridian's only authentic Thai restaurant. Authentic includes chefs from Thailand specializing in different regional Thai cuisine. Fresh ingredients and aromatic herbs are utilized in every crafted entrée from mild to spicy. There are always six to seven different curry dishes available.
At Sa-wad-Dee Thai, you will be transported into a relaxing subtropical setting, with soothing music, exquisite artwork and decorations directly from Thailand. The chefs are unbridled to draw upon their country's heritage to provide a unique and delicious taste to our customers.
(Sa-wad-Dee is like Aloha. It is Thai for hello and goodbye)
Recipe: Chicken Volcano
Ingredients: Serving 4
4 Cornish Game hens, cleaned.
Marinade:
4 stalks chopped fresh lemon grass
6 cloves fresh garlic
6 leaves fresh lime leaves
6oz chopped fresh red onion
6oz fresh cilantro
10oz coconut milk
2 teaspoons salt
1 teaspoon black pepper
2 teaspoons sugar
2 teaspoons curry powder
1 teaspoon turmeric powder
4oz cooking red wine
4oz vegetable oil
2oz white vinegar
· Blend all of the Marinade ingredients together and Marinade the chickens overnight.
Preheat oven 350 F for 10 minutes. Bake at 400F for 50 mins.
Serve: Pour your favorite bar B Q sauce or Sweet chili sauce on
Light your bird on fire at table side. Pour 151 liquor over and light it up!